About Looksi
Looksi is a new pre-moderated submission-based site serving the shelter, DIY, crafting, home-keeping, and gardening communities, set to launch January 21, 2013. Accepted posts will feature stunning photography, helpful first-class written content, or both!
To submit your images, please get an account or log in first. Please reference our Submission Guidelines for more information if you are having problems with your posts and photographs being rejected.
Why Looksi?
We want you to take a look-see at all the beautiful home and garden posts from all around the world in one location. We want you to be able to enjoy looking at all the beautiful photos, but even more, we hope you click through to SEE the amazing content our bloggers are producing. Looksi will publish only top-of-the-line tutorials, how-tos and informative posts, so that you won't be disappointed when you click through.
Why Square?
Well, the obvious answer is our site design, created to celebrate the square layout. We also want Looksi Square to be like a community square, where all the creatives gather to see what is new and fresh in the crafting, gardening, shelter and arts communities.
How does the Looksi Square Pinterest page work?
We know that it is frustrating to have your work declined by curated submission sites. We love all of you and we hate turning down your posts! The most common reason we turn down posts is due to photographs that are not light, sharp and crisp. Make sure to balance your camera on a hard surface or tripod and learn to use your exposure compensation button. Aside from that, you have a second opportunity to share your work with Looksi readers on Pinterest! Whether your post was published or not on the Looksi Square Grid, we want you to be free to share it on the appropriate Looksi board on Pinterest. (Check us out HERE! Simply email looksilou@gmail.com if you would like to be added as a contributor to one or more of our boards and then you can feel free to pin any art, craft, home, garden or creative post to that board. (We are big on repinning too - wink wink!)
If you'd like to contact us, please write us looksilou@gmail.com or looksisue@gmail.com.
Find Looksi on Twitter, Facebook, Pinterest and Google+.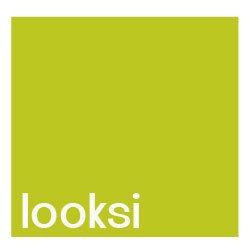 Any information you submit to Looksi is used only for the purpose of publishing on the site or contacting you about your submissions/account. Your information will never be sold to a third party. Looksi reserves the right to use random samplings of content for advertising purposes.